New Zealand international Lovemeto has well and truly arrived on the scene here in Australia with an emphatic victory in his heat of the Haras des Trotteurs Victoria Trotters Derby.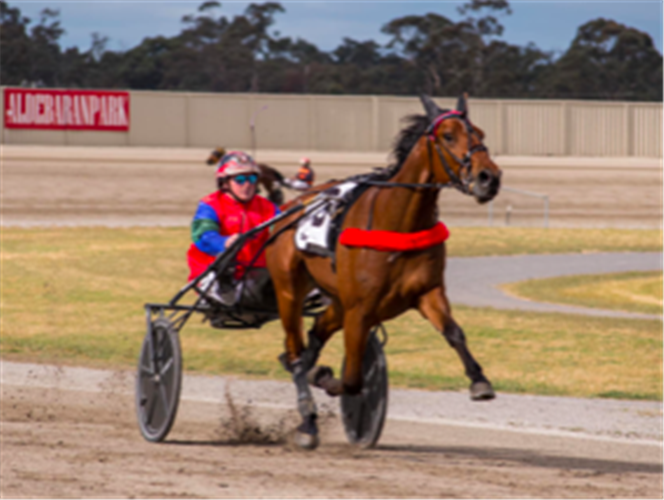 The Graeme Rogerson and Dylan Ferguson-trained gelding worked his way to the lead shortly after the start and streaked away to win by over 30 meters in his qualifier on Sunday.
This is the first time the three-year-old has left New Zealand shores and Ferguson says he has taken some time to adjust to his new surroundings.
"To be fair he hasn't settled in the best," Ferguson, who drove the horse on Sunday, explained.
"He has been sort of picky on his feed. He has always been very bright, but he has been drinking good and working good.
"All the main things have been very straight forward. It's only his first trip away from home, he hasn't been on the truck for any more than an hour and a half. You know it's a big trip for a young horse.
"I think it's going to benefit him coming over here much further down the track. We specifically brought him over early to have a lead-up race (second to Utopia at Melton on October 11).
"Yesterday was ideal for him leading into next Sunday."
Ferguson isn't worried about his gelding only having a seven-day break into the Derby final at Maryborough.
"We have been here since the start of the month," he said.
"You know he has had plenty of time to settle in, he's raced well on the quick back-up at home in the past, he likes the distance and he is a good stayer.
"Without getting too carried away, I think he's still got a little bit more improvement in him from yesterday. I don't think the back-up will be too much of a problem for him."
Lovemeto's run in the opening heat of the Derby over 2690m showcased the trotter's speed and endurance.
"I think the biggest thing for our horse is he is a great stayer and that's probably the biggest asset," Ferguson said.
"He's proven at the distance winning our derby at home and two 2700m races in-a-row is going to benefit us."
The second heat of the Derby saw a stellar field with the likes of London To A Brick, Shes Ruby Roo and eventual winner The Locomotive progressing to next weekend's final.
"We understand we were in the weaker of the two heats," he said.
"I'm under no illusions that the top three horses in the other heat would have looked just as impressive if they had been in our race, if the roles were reversed a bit.
"You know next week is going to be another step up again. I'm pretty comfortable where we're at with our horse at the moment."
The top six place-getters in Sunday's Derby heats will progress to this Sunday's Group 1 final, which will be one of the showcase events alongside the prestigious Redwood Classic for two-year-old squaregaiters.